Think Poppies!
by An Abundance of Good on 03/07/16
(M.S. Warren)
We just got the forecast: Spring! So, we have big and plump bright-red poppies on our mind. An abundance of them.

The poppy flower is our adopted flower; the metaphor for an abundance of good. It symbolizes remembrance, hope, peace, and (nicely) sleep.

AOG's own Sarah Kuzmak Kioko has already provided our own little bunch: (from Ostia Antica, Italy)




As a plant, it rather stands out. (No it is not the same plant that provides the drug.)


(Wikipedia)
The poppy flower is an object of beauty which symbolizes many things - not just the warm and cozy feelings that other flowers might. (No offense to you daisies or mums or pansies or roses. It's just that the poppy's got you beat on emotional complexity.)
According to the delightful site,
American Meadows:
The once bucolic meadows of Flanders had long been graced by the brilliant red wildflowers each spring and summer, but during the Great War, the poppies disappeared. Since they are annuals, and grow quickly from seed each spring, the constant trampling and bombing of the battlefields simply stopped the famous bloom for four full seasons. When the war was over, and the poppies were able to bloom again, the display was spectacular. Actual seed counts were taken, and over 2,500 poppy seeds per square foot were found.



Memorials at Flanders Field.

And we might remember the striking scene in London
The Blood Swept Lands and Seas of Red exhibit at the Tower of London, which consists of 888,246 ceramic poppies, one for each British and colonial death

[

5

]



But let's get back to some happy poppy scenes:




Georgia Okeeffe's: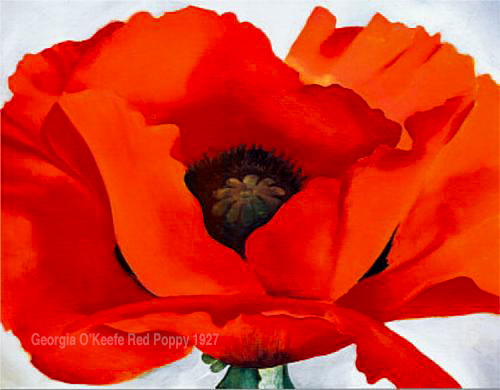 Vincent Van Gogh's Poppies:



And, last but not least, John Singer Sargent's:




The single greatest feature of the poppy is the way it pops up into view to surprise us in some of the most unlikely places and at some of the oddest times. It's sort of like the good that's out there: When surrounded by difficulties, you'll find an abundance only if you take a second look.